These are some of my wishes for Christmas. Needless to explain about these stuff eh. As a woman, I need to feel good and I loveeeeeeeee feminine stuff like handbags, boots, a new trendy coat from V.S and of course, sweet smelling perfume especially Estee Lauder/ Jessica Simpson's new fragrance. I wish Santa can see this wish list of mine and give me at least any of the following attached below!


... anyone can give me this exact style and color this Christmas will be rewarded by heaven above..hehe..kinsa kaha?

...this is soooooo sizzlin' hot cute handbag from Coach..been eying this for a long time.

This wristlet is so handy that I want to have one of this... pretty!!


I still have big space in my closet, so a pair of white boots will be enough to add to my old pairs.. Santa hear me please!!!!!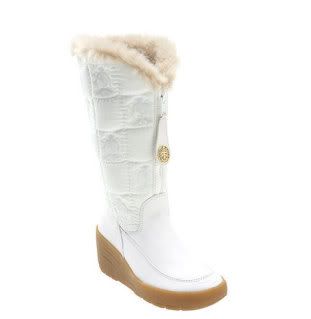 Last but not the least, perfumes as I mention above is what I long to have this Christmas also. A bottle of new scent wouldn't hurt if somebody will give me one haha.. wishful thinking lagi dayon.