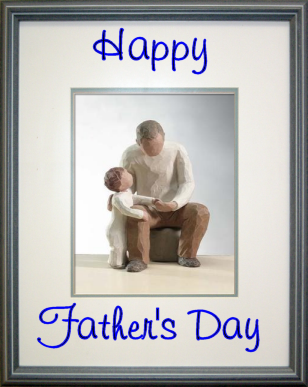 I never realized how blessed I am to have these two fathers in my life until I became responsible of taking care of my own life. My father has molded me to be the person I am now today. He disciplined me and taught me things only fathers know. Though I wasn't close to my father when I was growing up but he was always there provided me with everything I need in my entire years of living under his roof. He supported me all the way on the decisions I had to make including marrying a foreigner and for the fact that he was the one who helped me alot during inquiries of stuff for my wedding and I so never forget that.

To you PAPA, HAPPY FATHER'S DAY. I may have never said this three important words you ought to hear from your children but let me tell you these on this very day that I LOVE YOU SO MUCH! Please take good care of yourself and be well soon, please.


....this is my father two and a half years ago with my small siblings. In fairness, I miss him now... hmmm.. not a papa's girl but I'm still human who miss my family terribly.
... and photos below are of my husband with our baby. Jadyn is lucky for having a daddy like his dad. I wouldn't dare exchange/replace my husband to any other fathers out there because he is the best of them all and I've no regret I chose him to father my child as he is a very devoted, responsible, loving and sweet dad to his girl, Jadyn. HAPPY FATHER'S DAY TO YOU MY DEAR LALABS! MUAAHH LOVE YOU MUCH!
P.S To all the Fathers in the world, congratulations and HAPPY FATHER'S DAY to you all too!