This post brought to you by GoodNites. All opinions are 100% mine.
Bedwetting is common for children who are as young as two up to probably 8 years old. I am pretty sure I am not the only mother who has to deal with bedwetting. Imagine the hassle it cause to both the mother and the child. Not only it is a big job to clean up the sheets but also the stink of the urine once it soaked to the mattress is just horrible. As for children, bedwetting can cause them to be embarassed for we know pretty sure that they didn't mean to do it, it was just an accident. Alright, we get it but that doesn't mean we are okay with it.
A simple solution to it is to use mattress pad and or use a good quality and discreet underwear to avoid this dilemma. GoodNites is the answer. My toddler is on her fourth night of using this underwear and it somehow eases my mind knowing that what she is wearing can really keep her from leaking in the bed, is comfortable and most of all has nice girl design. She got a tinkerbell design which is her favorite character. 
Whenever it is bed time and I change her diaper, I tell her come baby, let's put on your pretty tinkerbell diaper and she would come to me right up with no questions ask because she really loves it.  If the baby is happy, then mommy is happy too.
For those who haven't tried GoodNites, now is the time so you don't have to think about bedwetting anymore. If you are on Facebook a lot just like me, you may follow them on their GoodNites Facebook page.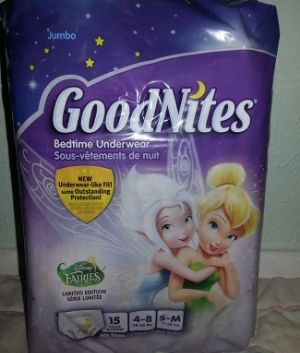 ... my baby girl seem to love the comfort of GoodNites underwear she feels.